"Every heart sings a song, incomplete, until another heart whispers back. Those who wish to sing always find a song. At the touch of a lover, everyone becomes a poet."
- Plato
The surreal beauty of these ancient marvels has left me singing. It would not be overstating to say the artisans of ancient India have evoked the poet in me. For the sheer spectacle they've achieved in this temple… has left me at a loss of means to express myself. Agnostic, by belief, my mind fails to comprehend the strange sense of calm, a silence that is music to my ears.
Of course reading this you may be baffled at the relentless imagery, but believe me no literary genius can do it much justice. At the wee hours of the mornings, (with the sun just peeking out!) walking along the temple grounds, I cannot but borrow words of Tagore, for I no longer seem to have my own...
"Man goes into the noisy crowd
to drown his own clamour of silence."
Yet only here it seemed almost as if I went into the clomour of Silence to drown my own noisy babbling. Oh well you fellow cynics, I shall show you my proof. Despite not being too good a photographer, I'm proudly posting these pictures, for their beauty is such that it would show past my short comings.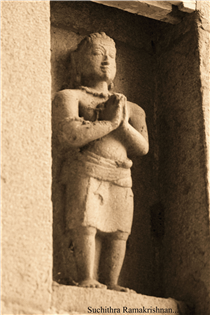 he stood at the door almost as if welcoming us in.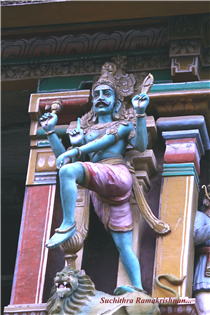 At the Gopuram ... majestically!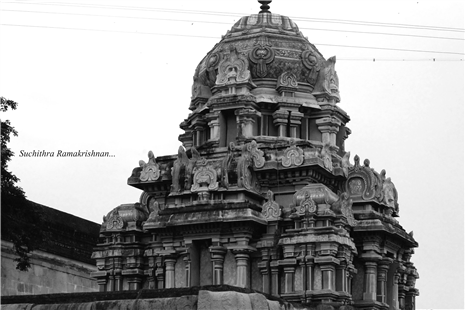 A classic chola styled gopuram. this is a small shiva shrine (there are a lot of these shrines in the temple.) in the area between the main temple (sanctum) and the temple walls.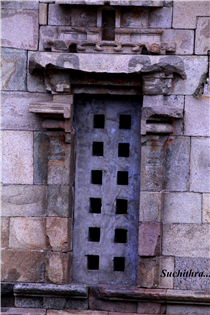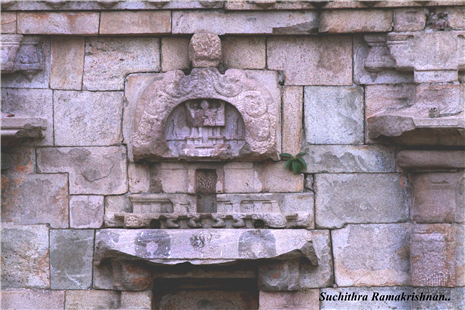 stone windows lined the temples walls (and all of this is outside the sanctum. i still have not entered the temple main.)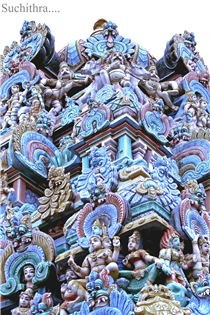 more Chola handiwork...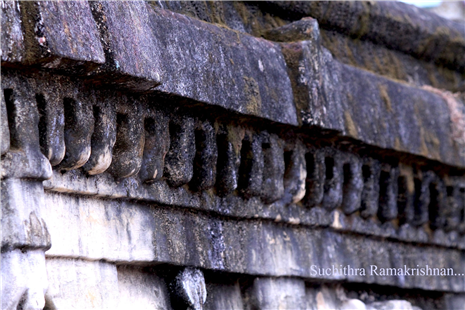 Part of the old temple wall that survived the Chola remodeling.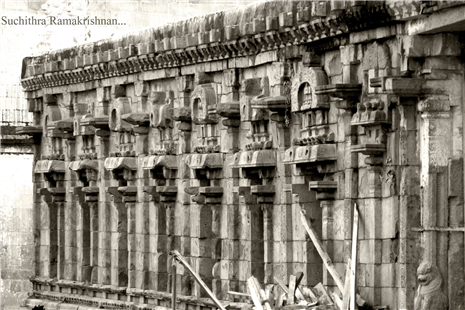 The hall of a thousand pillars. The temple houses a huge unfinishef hall. the hall was supposed to be supported by a thousand pillars. however it was never unfinished (Yeah! i know that is unfinished. makes u wonder how the completed structure might have looked :o) there are hundreads of pillars in this hall and hundreads standing beyond the hall, almost waiting for someone to finish them. there is a legend to it too, exited as i usually get at the prospect of a legend, so i pestered everyone i found and heard various versions. i shall post it next... stay with me :)
And this is just the first ten minutes into the temple. (no kidding!) there is a lot more. Forgive me for a long post but I have 350 pictures to choose from. I just posted the first few. let me know if you want more
Tweet